Great style needn't be about keeping up to date with the very latest of fashions. A few simple rules, followed well means you'll be looking good without a great deal of effort or cash. To look good year round without spending huge amounts of cash on a wide-ranging designer wardrobe, follow these simple style tips for men.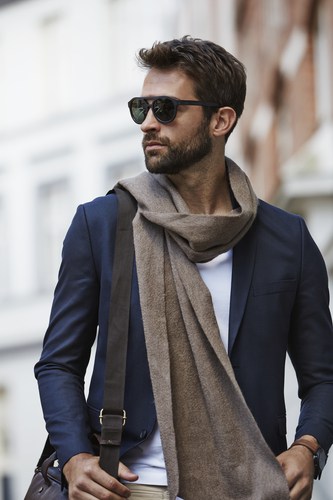 Pick Block Colours
A great bit of fashion advice I was once given by a Prada designer is to go with classic clothing in 'block' colours – where the whole garment is the same colour. The reason for this is they don't date, are very easy to style, they're versatile and remain classics forever.
There are lots of examples where this is true…
The plain white t-shirt or shirt. A classic.
Classic jeans – never out of fashion since the day they were made.
A simple grey or navy blazer – from casual to smart.
Simple cashmere sweater – suitable for the office, a party or lounging around at home.
Patterns date and aren't always easy to style – especially if your body shape isn't co-operative!
Vertical stripes have a slimming and lengthening effect, so if you're slightly shorter and more 'generously proportioned', then vertical stripes may help change your overall look.
Horizontal stripes have the opposite effect, so unless you have a long enough torso or are suitably slim enough to make them look good, give them a wide birth.
Pick Well Made Clothing
There's an old saying in shopping – buy cheap, or you'll buy twice. This rule really holds true when it comes to clothing, so try to buy the best that you can afford.
Quality clothing really does stand out – if you pick it well. There are a few important things to look at which will help you decide whether or not to part with your hard-earned cash. A simple, quick checklist to look out for is…
Material quality – is it thick, does it feel like it's good quality?
How are the seams? They should feel sturdy and well-stitched. Cheap clothing can fall apart at the seams.
How does it fit? Well made clothing typically fits better than cheaper clothing, so try it on first.
I'm not suggesting you blow the bank on every single item – some items such as plain white t-shirts you use as a base layer needn't be expensive, but your big statement pieces such as trousers, coats, shoes, shirts etc, buy the best quality you can afford every time.
It's an investment that will pay off for a long time. Well-made clothing can literally last for decades.
Opt for Versatility
A versatile wardrobe means you can get away with owning fewer pieces, but mix and match them to keep any look fresh.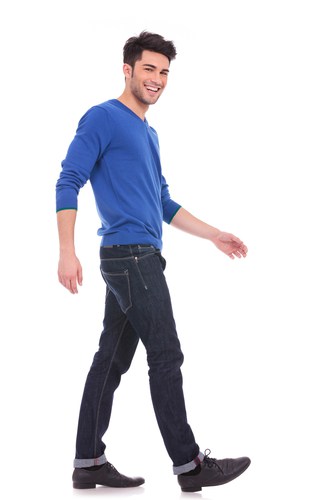 A pair of smart jeans is a great example – they can be dressed up with a shirt and a blazer or could be dressed down with a plain white t-shirt. When it comes to footwear, it's the same – you can make them smarter with dress shoes, smart casual with boots or casual with a pair of trainers.
Similarly, a cashmere jumper can be smart if it's worn with a pair of trousers or chinos, or casual with jeans. Underneath the jumper, a shirt or t-shirt can dress the jumper up or down depending on the requirements. It's a questions of matching the base layer to the event.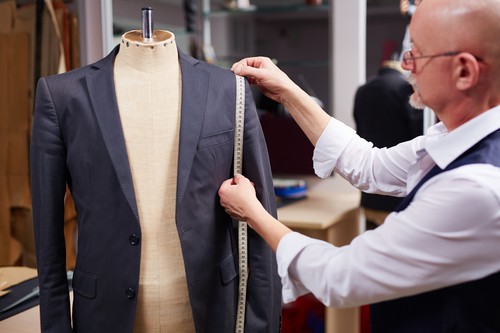 Tailoring and Adjustment
The look of an outfit is dependent on the fit of the clothing – great pieces can look scruffy if they don't fit properly, so take the time to find clothes that fit well. Even then, a little work can take a good outfit to great.
It's worth speaking to a tailor to see what items you can have adjusted. Trousers, shirts, blazers, jeans and suits will all benefit from a few tweaks, especially if it's a key piece in your wardrobe. I wouldn't waste the money on items such as t-shirts and shorts, but certainly the others could be helped with a little personalisation.
Accessorise Properly
For most men, less is more when it comes to accessories. A nice watch, perhaps some cufflinks, an appropriate pocket square, a simple leather belt and that's about it. Unless you're going for a Johnny Depp in Pirates of the Caribbean look, avoid multiple bracelets or necklaces – they tend to cheapen a look.
The same can be said about bling. Keeping your jewellery subtle rather than overstated and in your face is the way to go for most men.
From a belt point of view, there isn't a great deal of difference between high street and designer when it comes to style tips for men, so it's a way you can save money but still complete an outfit well. For a classic yet versatile choice, go for real leather in both black and brown – that way you can mix and match depending on the rest of your outfit.
Style Tips for Men: Concluded
A great look isn't always about money – it's about picking clothes that are well made, fit well and are assembled in a great outfit. Find a style that works for you and explore looks within it – even go for an appointment with a personal shopper if needs be. It could certainly help you find new inspiration!