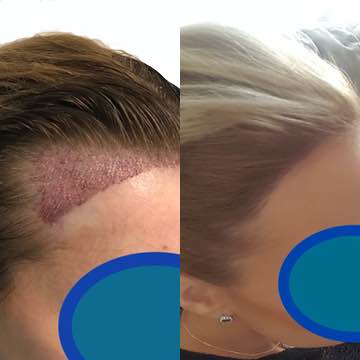 People have become more conscious of how they see themselves during the pandemic, where all meetings were done via video conferences. As a result, more and more people with diminishing hairline and other hair issues are looking to get a hair transplant procedure to boost their self-confidence. If you are looking in Turkey for hair transplant costs, then you will be pleasantly surprised at how much you can save from getting the procedure in this country. Hair transplant in Turkey is widely known because of the promotion of medical tourism.
In recent years, the demand for hair transplants has increased. British patients realise that the clinics in Turkey offer high-quality services at prices they can afford.
This is one of the reasons for the growth of the cosmetic industry in Turkey, marking one of the most remarkable medical tourism developments in the past few years. They utilise a good mix of expertise and healthy competition among clinics and practitioners.
Hair clinics have pioneered some of the best methods to transplant hair that look as natural as possible. What's more is that, in Turkey hair transplant cost is something almost anyone can afford. Compared to getting it in the UK or in the US, it is relatively much less expensive.
Usually, in the UK, it would cost you around £3 per graft. In Turkey, however, it would cost less because you will pay in a package deal which will leave you saving plenty. On average, a 3,500 graft operation costs as little as £1,800.
In the UK, a hair transplant can cost around £4,000 to £30,000. The price depends on how much hair has been lost and the procedure type you want to have. Patients with permanent baldness can benefit the most from this procedure.
Hair transplant is the procedure when a surgeon moves hair from the donor region—the backside of the head—to a thinning or a bald spot. This cosmetic surgery is not offered by the NHS in the UK because it is a cosmetic procedure. There are two main types of hair transplant: follicular unit transplantation (FUT) and follicular unit extraction (FUE).
Prior to any procedure, the client will usually be put under local anaesthetic and sedation, which will allow them to be awake during the procedure, but since they have anaesthetic, they will not feel any pain.
FUT is also known as the strip method because a thin strip of skin with the hair removed from the back of the client's head is taken and cut into pieces. These strips usually contain one to four hair grafts and are placed into small incisions made in the scalp.
The area where the strips were taken would be closed with stitches. These would have small scars but wouldn't be visible if you have hair long enough to cover them.
FUE is an alternative treatment. In this procedure, the whole head is shaved because individual hairs are to be removed. Like FUT, the grafts would be placed into tiny cuts made in the scalp. The scars from the procedure would be very tiny and will barely be visible.
Hair transplants usually take 4-8 hours, depending on the graft numbers, but an overnight stay at the hospital will not be necessary. However, if a large area is being treated, multiple sessions may be required. These would be done at least a year after the first procedure.
Most of the time, after each procedure, the surgeon will recommend how to look after the graft and the client will be given medicine and spray to help speed up recovery and growth of hair.
Recovering from a hair transplant in Turkey is very straightforward. Most people can return to work after three days of the procedure, but they still have to be cautious because there is a chance for the grafts to fall out. This is why vigorous exercise and immersing in water is discouraged until the scars have fully healed.
In about 21 days, the transplanted hair would begin to fall out, but you don't need to be alarmed because this is a natural process. After they fall out, the hairs will begin to grow naturally.
After six months, new hair growth can be expected, and in about a year to a year and a half, the final results should be evident.
There are some minor side effects to be expected. After the procedure, the scalp may feel tight and swollen, but this is natural because of the operation. The area where the hair was transplanted would also have temporary scabbing. In some cases, there will be a single scar or a number of very minute scars.
Before the procedure, it is important to get to know the surgeon you are hiring. There are some things you can ask them to ensure that they are qualified and can provide you with high-quality service.
Ask your surgeons about their qualifications and experience. Knowing how many transplants they have performed will also assure you that they know what they are doing. Ask them if they performed any procedure and the client had some complications. Doing so will let you know if the surgeon has solutions and professionalism in their work.
Getting a hair transplant nowadays is not what it was a decade ago. With the advancement of technology and the openness of people to cosmetic procedures, feel free to get this operation if it will give you a renewed sense of confidence and will give joy in your life.
The Best Hair Transplant Clinic in Turkey
If you want to find the best hair transplant in Turkey, you must do your due diligence as it can be a little confusing because of the many offers, but some clinics are better than others because of the quality and cost they offer.
For the best of both worlds, GetHair is one of the top choices. We have surgeons who have more than sixty years of experience between them. Our clients have expressed their satisfaction with the outcome of the procedure as well as the rates we provide them.
What's more, is that we have simplified the processes so that your journey to a full and restored hair is as smooth as possible. Browse our website at gethair.co.uk and contact us for a free consultation today.