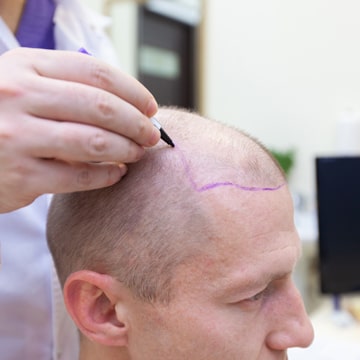 Hair transplants are a popular solution for people who have hair loss, and due to the relatively low hair transplant cost Turkey-wide, many people opt to get their treatment in this country. Hair transplants in Turkey are permanent and look completely natural, making it appear as if you have never lost the hair in the first place.
Although hair transplants cost far less in Turkey than in most European and North American countries, depending on several factors, you may end up paying more for your operation than you previously expected. As such, we at GetHair will discuss everything you need to know about hair transplant costs, allowing you to financially prepare for such an operation.
If you are planning to get a hair transplant done soon, be sure to continue reading below.
1. The extent of hair loss
The size of the bald area is one of the main factors that directly affect the price of a hair transplant. Minor baldness will be less costly overall since it will require less time to operate on and less effort from the surgeons. On the other hand, a large bald area will require more effort and time to finish since more hair follicles will be moved during the operation. More grafts will be needed to produce a satisfying result in a wide bald area, which will further increase the cost of the operation.
In addition, more grafts are required if the baldness is very severe. The characteristics of your hair would also be taken into account, like hair thickness and hair type (curly, wavy, or straight).
2. Transplant technique
Currently, there are two main techniques that are used for hair transplant Turkey surgeries – Follicular Unit Extraction (FUE) and Follicular Unit Transplantation (FUT). Their difference lies in how they handle hair follicle extraction, with the FUE process harvesting every follicle one by one. Meanwhile, the FUT process will harvest a strip of hair follicles all at once.
Due to the intricacy of the FUE method, its cost is naturally higher compared to hair transplants that use the FUT method. The FUE method is also the more recent of the two and causes no scarring or pain after the procedure in addition to having a faster recovery.
It's also worth noting that the FUT method will result in a scar on the area of the head where the hair follicles were harvested from. With that being said, the FUT method has some advantages. For instance, the procedure won't take as much time as the FUE method since it is much simpler.
3. The qualification and experience level of the surgeons
When done by professionals, the best hair transplants in Turkey have very high rates of success. However, the success of a hair transplant surgery is dependent on the expertise of the surgeons and their supporting teams who will operate on you.
As such, it is important to choose qualified and highly trained surgeons with many years of experience conducting hair transplants. Although you can generally expect to pay a bit more to hire expert surgeons, the price you pay is well worth it.
4. Number of procedures
Most hair transplants can be done in just one operation. However, people who have major hair loss problems or total baldness might need two or more operations before acceptable results can be achieved. Naturally, more procedures translate to more costs.
Visit the GetHair Clinic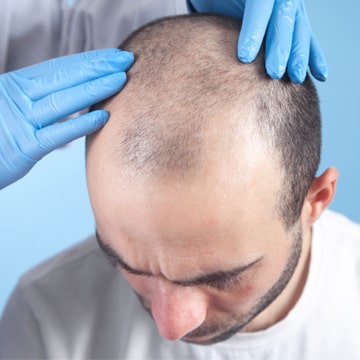 If you are interested in getting a hair transplant, book a free consultation today with GetHair, the leading hair transplant clinic in Turkey. To schedule a free consultation, you can book an appointment through our website today.
Our in-depth consultation will allow you to know if you are qualified for a hair transplant procedure and will also give you the chance to ask any questions or enquiries you might have.
In-clinic consultations will be conducted at one of our locations by our professional hair surgeons. This will allow us to determine the number of grafts needed to restore your hair to how it used to be, which, in turn, will allow you to know the exact cost of a transplant from our clinic.
Our hair transplants are conducted by a team of internationally renowned surgeons who are qualified with the ISHRS, ABHRS, and IAHRS. We will also continue to provide assistance once the operation is finished with follow-up consultations during the recovery period.
You can read hair transplant cost turkey reviews on our website and learn all about the previous results that we have achieved with our patients.
So, what are you waiting for? Contact us today via email at ask@gethair.co.uk, or via phone at 020 3868 3600 to get started.
FREQUENTLY ASKED QUESTIONS
Is Turkey the best place for hair transplants?
Yes. Turkey is one of the top countries that has gained prominence for providing excellent hair transplant procedures. The country has reputable clinics that offer premium quality services at competitive rates, such as GetHair. Despite the relatively low hair transplant costs in Turkey, patients can still expect high-quality service.
Are hair transplants worth it?
Absolutely. Restoring and thickening hair on bald spots can help boost one's confidence, reduce anxiety, and improve overall quality of life. Without a doubt, a hair transplant is a life-changing procedure that can significantly improve an individual's self-esteem, making the hair transplant price Turkey-wide worth every pound spent.
Why are hair transplants so cheap in Turkey?
Turkey offers cheap prices for hair transplants because, compared to other countries, the costs of living here are relatively lower. Despite this, the quality and results of the transplants in this country meet the highest standards. Hence, it has become the ideal destination for many who want to restore their hair.
Can you go bald again after a hair transplant?
No. Due to the nature, technique, and high effectiveness of such a procedure, implanted hair follicles are unlikely to fall out. Though there may be instances where grafted follicles fall off due to shock and biological or environmental factors, such situations are normal, and transplanted hair will continue to grow over time.
Are hair transplants in Turkey safe?
Definitely. Based on foreign office reports, most regions in Turkey guarantee a great deal of safety, so there have been no issues with travel bans. In fact, Turkey, particularly Istanbul, is the prime destination for those who plan on having hair transplant surgeries as they are welcomed with warm hospitality.
Do hair transplants look natural?
Yes. When done by the best surgeons, hair transplants look completely natural. Qualified and reputable surgeons know what it takes to achieve results that are not entirely obvious. To achieve a good balance of subtlety and better hair thickness, the solution is to hire surgeons with extensive experience.
Do hair transplants fall off?
Yes, but that's just normal. Transplanted hair can fall out two to three weeks after the procedure to make way for new hair to grow. After eight to 12 months, patients should notice significant hair growth. Some doctors also prescribe hair-growth medications to aid the process.
Turkey Hair Transplant Cost
Turkey has become the centre for hair transplants, which is why most would assume that procedure costs would be ridiculously expensive. Surprisingly, however, they are offered at competitive rates.
That's because they provide a variety of services that are available at varying prices. The rates are also affected by labour costs and the purchasing power of local currency, which are both generally low.
Likewise, the price also depends on the number of healthy grafts per session. Combined with the inclusivity of treatment packages and economic factors the overall treatment cost in Turkey is significantly less compared to other countries.
Tips Before Having a Hair Transplant in Turkey
To get the best hair transplant in Turkey, tourists should know a few tips. For one, it's essential to research about treatment prices and flight costs. Steer clear from unqualified surgeons and do research on competing clinics. You can also guarantee the safety of procedures by ensuring that facilities have licenses and international accreditations.
Likewise, enquire about patient experiences, results, and testimonials. Consider checking their before-and-after photos as well. To guarantee that you're getting good value for the hair transplant rate in Turkey that you're paying, confirm the credentials and affiliations of the surgeon who will perform the procedure. Reading online reviews would also be crucial in the process.
Pros of Getting Hair Transplants in Turkey
Getting a hair transplant in Turkey has many benefits. This operation is regarded as the best solution for those who have baldness, be it due to environmental or genetic factors. The procedure also has no known health risks and is completely safe.
Choosing to get a transplant in Turkey guarantees a high level of care, convenient travel packages, and of course, much lower costs.
Why You Should Choose Istanbul for Hair Transplant Surgery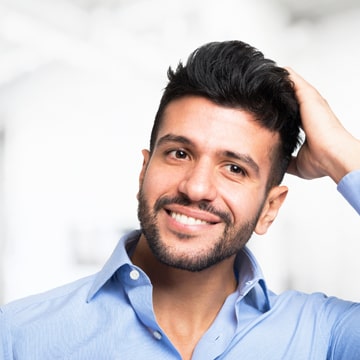 The main reason why most people travel to Turkey to have hair transplant surgery is because the country, particularly Instanbul, has some of the most experienced and respected surgeons in the world. Likewise, hospitals and clinics in Turkey conduct the most innovative procedures that make hair transplants successful.
The specialists here evaluate a patient's hair condition and baldness patterns before recommending the best techniques that would meet their needs. Since their centres offer a variety of methods, like Follicular Unit Extractions, anyone can ensure the suitability and value of the hair transplant fees in Turkey that they pay.
If you are looking for the best hair transplant packages in Turkey at affordable rates, check out our efficient services here at GetHair. To get started, call one of our representatives today!