Hair transplants are one of the best solutions for hair loss today. You might have dabbled with the idea before but have felt discouraged by how expensive it is in the UK. But did you know that the Turkey hair transplant cost is significantly lower? So, if you are looking for an affordable yet proven way to solve hair loss problems, you should definitely consider getting a hair transplant in Turkey. Read on to further understand how could be a feasible option for you.
Turkish vs Global Prices

Hair transplant procedures vary in many ways. Several different packages are available depending on what suits your needs. Some of the factors that clinics will take into account are your preferred doctor, the number of grafts, and the scope of the aftercare.
Prices also vary across countries. Because of the economic climate and cost of living in the United States, United Kingdom, and Australia, the treatments in these countries are about 60% to 80% higher compared to Turkey. In the US, UK, and Australia, FUE procedures could cost up to $15,000 USD, £30,000, and $30,000 AUD, respectively. Surprisingly, identical treatments in Turkey will cost about $2,000 USD only. That sounds like a pretty good deal, doesn't it?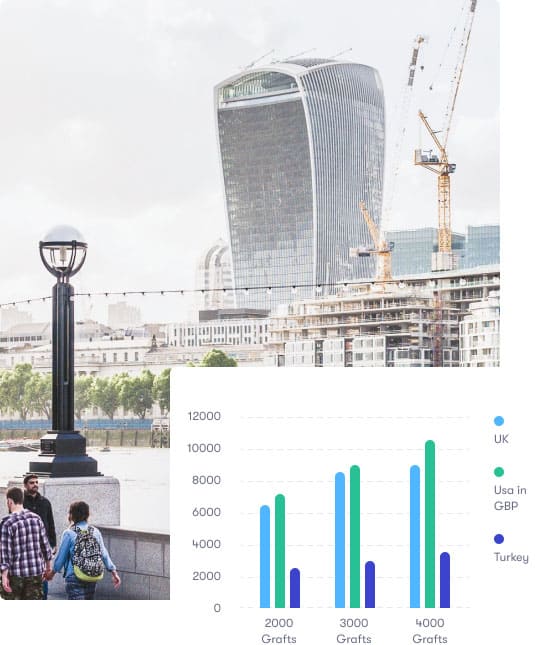 What's So Special About Turkey?

Are you feeling a bit apprehensive about getting treatment abroad? That's understandable. Getting a medical operation by itself is already nerve-racking; what more in an unfamiliar place, right? These facts, however, will surely ease your mind.
Their Medical Tourism is Flourishing
Turkey is protecting its title as the world leader in hair transplant surgeries. More than 5,000 foreigners fly out to Turkey every month specifically for hair transplants. You are definitely not alone in this journey!
The Home of Acclaimed Specialised Surgeons
In-demand professionals such as our very own Dr Tayfun Oğuzoğlu are based in Turkey. A patient's decision-making is heavily influenced by how much they trust the doctors. With thousands of glowing recommendations from lush-haired customers, you can't deny their expertise in the field.
Copious Competitive Prices and Packages
With the growing popularity of hair transplants, local clinics can be found just about anywhere in Turkey. In effect, the competition grows steeper and steeper. This has driven Turkish hair transplant costs down and has promoted medical innovation in the local scene. Clinics strive to provide the best service by investing in research and development, equipment, and training. That all equates to happy, satisfied customers.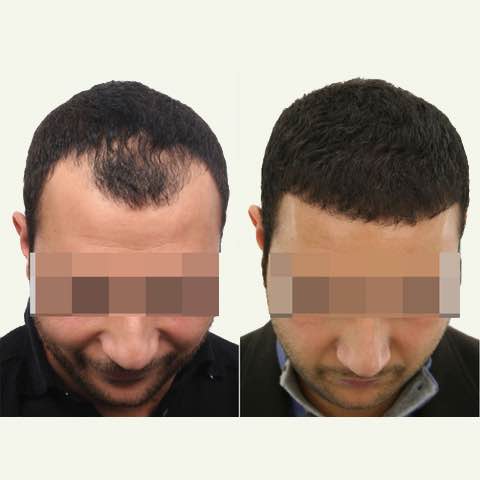 How Safe Is It?

With any medical procedure, safety and risks are always the number one concern. You would be pleased to know that the Turkish government has established regulations to protect consumers and patients, especially in this field.
JCI Accredited Facilities

Their medical facilities, including technologies and equipment, are accredited by international institutions. In fact, with more than 45 Joint Commission International-accredited hospitals, Turkey tops the board in the region. You can get the best hair transplant in Turkey in clinics that are accredited by the ISHRS or the International Society of Hair Restoration Surgery.

Government-Regulated Medical System

Non-compliance to global standards in terms of health and hygiene, equipment, and ethics is not taken lightly by the government. Local certifications are also implemented to ensure that only the authorised professionals will practice hair transplant procedures.
Not only is it safe, but patients can also have a convenient and enjoyable experience. Since a large number of patients are from out of the country, Turkey offers numerous medical tourism packages that can transform a trip into a holiday-like experience! You even can be given access to translators, private chefs, luxurious accommodations, and even tour guides.
We here at GetHair offer packages that include all the essentials you need, including plane tickets, drivers, and hotel accommodations.
All in all, Turkey is a lovely country that boasts world-class medical care offered at very competitive prices. All of these advantages make the country the top choice in the world for hair transplant surgery.

GetHair Will Get You There!

With over 16,000 successful surgeries, GetHair provides high-class hair transplant services in Turkey to our patients from London and beyond. We are backed by three ISHRS-certified senior hair surgeons who have been performing FUE, DHI, and FUT since 1996!
We offer an all-inclusive Turkey hair transplant package at a low cost. Our packages include airport transfers, hotel accommodations, and a dedicated patient coordinator.
If you're ready to take on this journey, contact us today to get a free consultation with our expert doctors! We'll put you on the right track and answer any of your questions. Send us an email at ask@gethair.co.uk, and we will get back to you within 24 hours. Alternatively, you may call us on 02038683600.
FREQUENTLY ASKED QUESTIONS
What is the success rate of hair transplants in Turkey?
Turkey hair transplant surgeries have an impressive success rate of 98%. This is because the country has the most experienced, skilled, and certified doctors and surgeons with well-equipped centres, as well as the latest technologies and techniques for such procedures. In fact, around 60,000 people visit Turkey yearly just to have a hair transplant surgery.
Should I go to Turkey for a hair transplant?
Travelling to Turkey to have a hair transplant surgery is worth it because of the treatment's high success rate in the country, as well as the low costs. The hair implant price in Turkey is 80% cheaper than the world average. Some reputable clinics even provide packages that include post-operative consultation and online assistance, medication, and hotel accommodations.
How do they do hair transplants in Turkey?
The FUE (Follicular Unit Extraction) hair transplant system is one of the most well-known and used techniques in hair implants and Turkey. This treatment is better than FUT (Follicular Unit Transplantation) as it involves extracting hair follicles from a donor area and transplanting them into the thinning or balding areas. It is similar to follicular unit grafting but without incisions.
Why are there so many hair transplants in Turkey?
Turkey is considered the best country to have a hair transplant surgery. This country offers cheaper services than the UK because it has a lower cost of living. And as mentioned, Turkey hair transplant costs are 80% lower than the world average. The packages offered in this country can include hotel accommodations and high-quality hair transplant treatments.
Why are Turkey clinics highly recommended for hair implantation surgery?
Hair implantation and transplantation services in Turkey are the best in the world. Also, these surgeries are 80% cheaper here than in any other country. Many people will plan trips to Turkey just to get these operations to take advantage of the excellent service and low price points.
When is the best time to get a hair transplant?
Male pattern baldness will typically happen by the age of 35. If you are experiencing hair loss at age 29 or below, your hairline is still forming. You could get a hair transplant at an earlier age, but it's recommended to wait until any rapid hair loss eases off so your doctor can better learn your specific hair loss pattern.
Your Guide to Hair Transplant Surgery in Turkey
Hair Transplant Types
Follicular Unit Grafting: This procedure is where the surgeon will get skin strips from a donor and transplant them on the patient's head.
Follicular Unit Extraction (FUE): This is an improved version of follicular unit grafting that doesn't need incisions.
Hair Transplant Cost
The cost is based on several factors like the hair transplant area, the patient's biological makeup, personal goals, and the method used. However, the average FUE hair operation price in Turkey is around £2500 or less. Financing options can be credit card, personal loans, and medical loans.
Hair Transplant in Turkey
Around 60,000 people yearly visit Turkey just to get a hair transplant. The success rate of the procedure in the country is exceptional at 98% because Turkey is home to many highly qualified and experienced surgeons and clinic staff who utilise the latest hair transplant technology.
Certified hospitals and clinics offer affordable hair transplant procedures and all-inclusive packages. For 4,000 to 4,500 grafts, it will cost about £1550 to £4500 depending on the clinic. This includes special medicines, shampoo, lotion, and two nights of accommodation.
Hair Transplants In Istanbul, Turkey – Why Are They So Popular
Istanbul has over 350 hair clinics, and most of them have ISO and other international certifications, like the Joint Commission International (JCI) accreditation. This shows that medical staff working in these clinics have a long history of using modern techniques in the industry. That's why people who go to Turkey have many excellent options that will meet their requirements. Most operations in this country happen in Istanbul.
Moreover, many people choose this city to have their hair transplants because it has specialists in micro FUE hair transplantation, high-quality services, and highly affordable costs.
Factors That Affect Hair Transplant Costs
Hair surgery fees vary depending on various factors, such as the clinic and the country where you will have your treatment.
Hair transplant price policies differ from one country to another, but if you want to have the cheapest procedure, Turkey hair transplant costs are 80% more affordable than the world average.
Other factors that affect the price are the patient's level of hair loss, the technique to be used, the hair transplant centre, and the doctor carrying out the operations.
If you want a reliable clinic to do the procedure, visit us here at GetHair! Get in touch with us today!