In recent years, an increasing number of Brits have taken the plunge and headed to Turkey to have hair transplant operations. One of the likely reasons for this is that hair transplant procedures in Turkey cost significantly less than those in the UK – usually by around 50% or more. But not only does a hair transplant in Turkey cost less – if you choose the right clinic, it could also offer you some of the best results in the world. The low costs and a track record of positive results explain why people flock from all over the globe to have their hair transplant in Turkey.
Some clinics offer the procedures at prices as low as £1,500, while other clinics may charge up to £3,500. However, even the upper end of this price range is still significantly less than what's charged for the equivalent procedure in the UK. However, experts warn that there is still a huge disparity when it comes to the quality of services rendered by each provider when you book a hair transplant treatment in Turkey.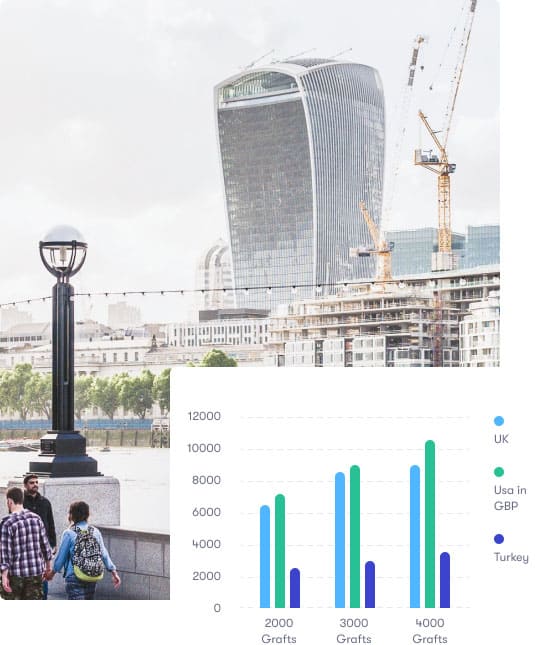 If this is an option you're considering, you should always be aware of the various factors to take into account when looking for the right hair transplant clinic for your own treatment. If you book the cheapest option you can find, then typically, you'll be sacrificing quality in some shape or form in terms of the service you receive.
If you find a hair transplant clinic abroad that charges low prices, it's more than likely to offer low-quality hair transplant procedures in return. You may find, for instance, that there's minimal to no personalised care. A low price may also imply the clinic has cut their costs in terms of the equipment they've invested in; or even the qualifications and experience of the staff they employ, which can result in less than desirable outcomes.
When comparing what a hair transplant in Turkey costs between various clinics, then, you should ensure that price is not the only deciding factor when booking your treatment.
Before choosing a certain clinic, always check online for independent reviews from previous patients so that you can assess the quality of its care and services. This process is a great way to gauge the clinic's reputation and results and determine whether going there is worth your time and money.
Celebrity endorsements can be helpful when seeking out these testimonials, but ones from regular clients are preferable because they have more objective opinions about the services they themselves have paid for.
You should also carry out thorough research to see which clinics have the most experienced staff. Your chosen clinic should employ experts who are properly trained and have many years of experience in performing these kinds of operations. Working with experienced practitioners not only makes it more certain that you'll experience high-quality results but also guarantees your safety – after all, a botched procedure can result in infection, which can worsen over time and compromise your health.
Your chosen clinic should also be fully up to speed with the latest developments in the realm of hair transplants. You can check this by looking in depth at the services they offer. The staff at the clinic must be able to provide you with as much information as you need so that you can put your care in their hands with genuine peace of mind.
A clinic that pays attention to detail is also highly desirable. Before the procedure, staff should be willing to inform you about the entire process and provide you with even the minutest details if you ask for them.
Zoom Dysmorphia
Hair transplants have grown more popular in recent years, and perhaps surprisingly, the Covid-19 pandemic has only served to boost their appeal. The spread of the virus resulted in lockdowns and new work-from-home protocols, which meant that office workers were ever more liable to attend meetings through video conference calling. Socialising has also migrated online as a result of the restrictions.
An increasing number of people have therefore seen themselves as others do a lot more over the past year, and that's often resulted in increased dissatisfaction with how they view themselves, particularly when it comes to their face and hair.
The name that's been given to this increased consciousness about one's looks is Zoom dysmorphia. This condition is described as the feeling of dissatisfaction that people get when they see themselves on screen. Becoming fixated on perceived imperfections and being obsessed with changing them can be harmful if not addressed properly.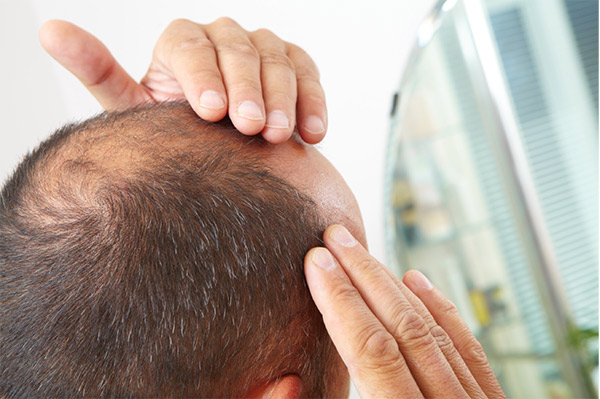 In the modern world, plenty of people are used to seeing themselves on the screen. However, others haven't previously had the opportunity to become used to this type of format due to the nature of their work and their lifestyle. But when businesses began to opt for Zoom calls to hold meetings, employees suddenly became hyperaware of how they looked.
The strangeness is very much like listening to an audio recording of one's own voice. It feels odd because we can 'hear' ourselves from inside our heads. Likewise, when we perceive ourselves through video, we become too self-critical, and this results in Zoom dysmorphia. The term was coined just months after the lockdowns were imposed and soon became a worldwide topic.
According to the International Journal of Women's Dermatology and a report from the BBC, more than half of medical experts surveyed have experienced an increase in aesthetic consultations of over 70% since lockdowns began.
This increase may have been prompted by isolation, pandemic-related stress, loneliness, and other consequences brought about by the virus. However, patients have also cited video calls as being another main source of distress. Low-resolution cameras surprise the viewers with a poor image of themselves, sometimes drastically changing their perceptions of themselves.
This change in perception is also one of the leading reasons why people are booking appointments with doctors who specialise in types of cosmetic surgery in the hopes of improving what they are seeing.
Book A High-Quality Hair Transplant At One Of Turkey's Most Trusted Clinics
Having a poor self-image can have a serious impact on your mental health. And because hair tends to be a prominent part of your appearance, you are more likely to have issues with your self-confidence if you have experienced hair loss.
However, if you have suffered hair loss to any extent, there is still hope. Having a hair transplant in Turkey from a reputable clinic can promise high-quality results and can help you regain some of your lost confidence.
GetHair is a professional clinic staffed by medical experts with many years of experience under their belts. We make sure that every patient is provided with care and high-quality service from their very first contact until the end of the procedure and thereafter. We offer the best quality aftercare support for a full 12 months after your operation. If you're interested in our services, you can book a free consultation with our surgeons today