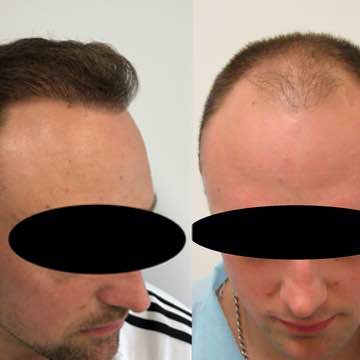 Hair loss is a common problem and can be a frustrating experience. It's a good thing that getting a Turkish hair transplant solves this problem. Getting a hair transplant in Turkey is not just easy; it could also turn out to be a much cheaper option.
It's understandable for you to wonder why you'd have to go to Turkey just to get a hair transplant. The quick answer – there are so many good reasons, the low cost being the most important of them all.
The best way to show you how much a Turkish hair transplant package would cost is to compare it with the cost of having it done in the US. Note that in both locations, you can arrange for a payment plan with 0% APR.
In the US, you'll be spending $2 per hair graft. This means that if you require 2,000 grafts, that's a whopping $4,000. Moreover, what if your hair loss is more advanced and would require around 4,000 grafts to be fixed? That would come to a total of $8,000.
Let's compare that to the costs when you get your hair transplant done in Turkey. There are normally different packages to choose from, but the range would be anywhere from $1,899 to $3549.
In both cases, airport transfers and hotel accommodations are already included in the package if you get them from providers like GetHair. Packages also include continuous monitoring of your treatment.
Why is Turkey a Great Place to Get a Transplant?
Did you know that over 250,000 people visit Istanbul every year to get a hair transplant? Yes, that's proof of Turkey's reputation as a prime destination not just for tourism but as a location where they can get premium treatment at a low price.
The costs alone would convince anyone to choose a Turkish hair transplant clinic over one in other locations. But of course, that shouldn't be the only consideration.
Quality should also be one of the main factors that would convince you to get your hair transplant in Turkey.
Thankfully, Turkey is home to some of the best hair transplant experts in the world. You can expect ISHRS-certified doctors with years of experience working on your procedure at a percentage of the price you'd normally pay elsewhere.
These hair transplant doctors know the latest procedures and use high-quality equipment, another reason for you to have your treatment done in Turkey. In fact, you can also find some of the most advanced hair transplant facilities in Turkey. The cost of living in Turkey and the power of your pound or Euro against the lira plays a huge role in why hair transplants done in Turkey are so much cheaper without sacrificing quality and safety. It's also a huge plus that you get to visit a beautiful country with a number of attractions worth seeing.
Available Hair Treatments in Turkey
If you're considering getting a hair transplant in Turkey, make sure you consult with a doctor first so that you have an idea on the different procedures involved.
Follicular Unit Extraction (FUE) is the most common procedure used. Here, individual hair follicles are extracted from areas of the skin that are abundant with hair and moved into the problem areas on your scalp. It is minimally invasive and leaves little to no scars.
Follicular Unit Transplantation (FUT), also called the strip method, involves taking a strip of skin tissue from the back of the head and implanting it onto the problem area. This leaves a sizable permanent scar on the area where the skin is taken from. However, this method also ensures that the grafts will hold and stay alive longer, knowing that there's going to be enough skin around to hold onto the grafts.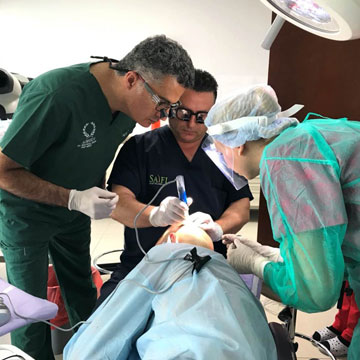 Direct Hair Implantation (DHI) is a fairly new procedure, but it isn't done by surgeons. Instead, clinics train technicians to handle this procedure. It works the same way as an FUE procedure, but the hair follicles are implanted using a small device instead of forceps. In terms of growth yield, there is still no evidence that this procedure works better than procedures performed by actual surgeons. So in terms of value for money, it's still highly recommended to go for either FUE or FUT.
As Turkey is a known destination for hair transplants, trust that any of these options will be readily available there, with an expert ready to work on your scalp. Call GetHair's UK office now at 0203 868 3600 to learn more about these different procedures.
FREQUENTLY ASKED QUESTIONS
Is Turkey the best place for hair transplants?
Yes! Here are some reasons why Turkey is highly recommended for hair transplants:
Clinics offer high-quality procedures at affordable prices.
Hair transplant Turkey price lists are lower by at least 60%-80% compared to the US and European countries
They speak fluent English, preventing any communication barriers
Clinics use the latest technology for their transplants
Why are hair transplants so cheap in Turkey?
It is much cheaper to have a hair operation in Turkey than in the United Kingdom or the United States because of this country's economy. The overall low prices have nothing to do with the quality of treatment you'll receive.
What is the best time to get a hair transplant?
Patients in their 20s aren't ideal candidates for hair transplants because the cause, severity, or pattern of their hair loss may not be fully developed yet. For this reason, it's best to get Turkish hair surgery when you are aged 30 or above. Regardless of age, it is vital to consult an expert before you consider getting a hair transplant.
Do hair transplants last forever?
If done correctly, a Turkish hair operation should last a lifetime. When the surgeon removes the hair from a healthy area and transplants it into the hair loss' area, the recently transplanted hair retains the characteristics of where it came from, remaining immune to the balding process. This means the hair is basically permanent in its new location.
Why should you get a hair transplant?
The main purpose of hair transplants is to boost confidence in those who have balding or thin hair. Thus, there are several benefits of getting Turkey hair transplants. Here are some of them:
Improves your appearance
Boosts confidence
Has negligible maintenance requirements
Cost-effectiveness
Low risk of complication and side effects
Looks natural
What is the best hair transplant method?
It depends on your condition. Below is the difference between FUE and FUT transplants.
FUE is the gold standard for treatments. Here, individual follicular units are randomly harvested and transplanted elsewhere on the scalp.
For FUT, a long, thin piece of tissue is removed from the back of the scalp. Then, the individual follicular units are removed using stereo-microscopic dissection.
Reasons to Get a Turkey Hair Implant
Turkey has been recognised as one of the best places to get a hair transplant. Here are the reasons why:
Cost. Compared to other countries like the USA and the UK, hair transplant in Turkey is cheaper. One key factor behind their relatively low-price treatment is Turkey's cost of living.
Wide Range of Reputable Clinics. As of the moment, there are an estimated 350 clinics in Turkey. These clinicians are all qualified professional hair surgeons that use the latest technologies.
Quality. Although the procedures cost less, the quality is on par with international standards.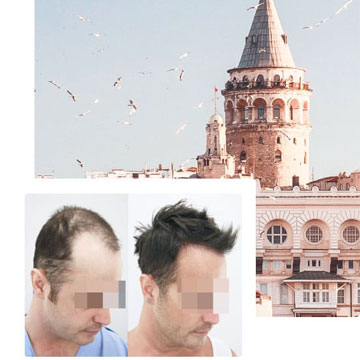 Explaining Hair Transplants
A hair transplant is a process in which a dermatological surgeon transfers hair to the bald areas on the head, done using local anaesthesia. Pattern baldness is the most common reason for hair loss, which is inherited through genetics. Besides that, other factors can cause hair loss, such as stress, illnesses, diet, hormonal imbalance, and certain medications.
Currently, there are two types of hair transplants – slit grafts and micrografts. For slit grafts, the procedure removes four to ten hairs per graft. On the other hand, micrografts contain one to two hairs per graft, depending on the coverage required. Hair transplants have a success rate of more than 90%.
Things to Expect from Hair Transplant Surgery
After choosing a clinic and surgeon, here are some things to expect from your hair transplant.
Surgical Process:
Before the procedure, the surgeon will clean your scalp and inject anaesthetics. Although your scalp is numb during the procedure, you may feel slight pressure. Depending on the size of the area that needs to be covered, the procedure may last for around four to eight hours.
Possible Complication:
As with any surgery, some side effects may happen. Here are some of the complications you may experience:
Negative reaction to anaesthesia
Bleeding and pain
Swelling and Itching
Scarring
Unnatural looking hair growth
Folliculitis
If you want to minimise the risk of complications, make sure that you go to a reputable clinic.
Results:
In general, within six weeks after the treatment, the transplanted hair will start to fall out, and it will take another five to six weeks for the new hair to grow. However, after the procedure, you may need to get an extra "touch-up" procedure. Don't forget to ask about this during the consultation process.
If you are looking for a reliable hair transplant procedure, visit our clinic at GetHair. We are one of the best clinics that offer hair transplant procedures with over 98% customer recommendations. Our doctors have a combined experience of more than 63 years in providing life-changing hair transplant solutions.