If you have thinning hair, you're certainly not alone. In fact, men lose between 50 and 100 hairs every day on average without even noticing it. The amount of hair you have and the type of hair you have is pre-determined by your genetic makeup – this means that the rate you lose your hair at is partially predetermined by factors beyond your control. However, other factors like your diet, trauma or stress also have a part to play.
The good news is that, if you've noticed your hair is thinning, you can slow and stop the speed of hair loss by using thinning hair products like shampoos and serums. After all, although getting a hair transplant in Turkey is a great way to restore your hair, the treatment isn't suitable for everyone.
If a hair transplant procedure isn't the right solution for you, then you may find that thinning hair products can help you regain a full and lush head of hair. To help you learn which specialist hair products can improve your look, we've made a list of the best products for thinning hair. From pre-shower options to shampoos and supplements, there's sure to be something on this list that suits your needs. Give them a go and see how they can help transform your look and confidence.
The Pre-Shower Option: 3″' More Inches Lifesaver Hair Mask
To stay strong and healthy, your hair needs much more than just the occasional wash and shampoo. If you notice that your hair has started to thin or looks weak, then try using a pre-shower conditioning treatment once a week to help restore strength and elasticity. The 3″' More Inches Lifesaver Hair Mask from Van Clarke is a unisex product that has been shown to produce results within a couple of weeks.
The proteins in the hair mask will repair broken bonds in the hair shaft, reducing thinning and preventing breakage. Simply soak your hair with the product and leave it in for at least 45 minutes. Then, rinse your hair well in the shower and follow it up with a conditioner.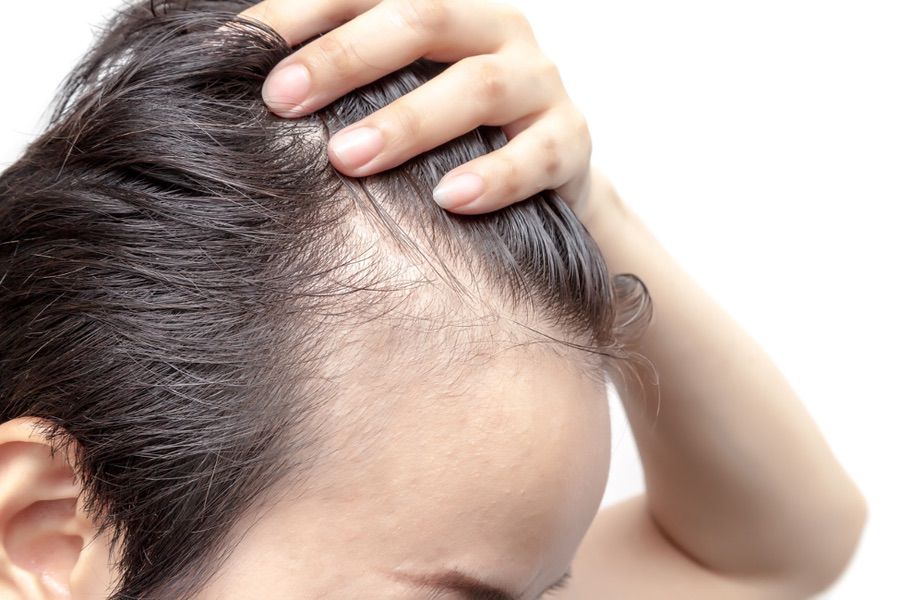 The Shampoo: Aveda's 98 Per Cent Naturally Exfoliating Shampoo
If your hair follicles are blocked or obstructed, then they may struggle to grow strong, thick hair. Thankfully, Aveda's naturally exfoliating shampoo clears the areas around your follicles of any blockages. In doing so, it cleans your pores and removes any build-up and excess sebum. Due to this, not only will your hair grow back thicker, but it will also be stronger and less liable to breakage in the future.
The Supermarket Shampoo: Alpecin Caffeine Shampoo
Most of the products mentioned in this blog are specialist items you'll probably need to buy online. However, some of the best thinning hair products are now appearing in supermarkets, including Alpecin Caffeine Shampoo.
This product works by releasing silicone that softens and strengthens your hair. The product is designed to strengthen your hair's roots and Alpecin claim that the shampoo will improve the structure of your hair in as little as a few washes.
The Conditioner: Aveda Invati Men's Scalp Revitaliser
If your hair is thinning, then you've probably avoided using a conditioner because they can add unnecessary weight to your hair. Although this is a wise move, Aveda has pioneered a new technique for cleansing and thickening your hair as a part of your in-shower routine. This new revitaliser helps to thicken your hair when you massage it into your scalp after you shower. Not only will it instantly thicken hair from the root, but it will also help you invigorate your scalp.
The Combined Option: Jack Black Double Header 2-in-1 Shampoo and Conditioner
The Jack Black Double Header works as both a shampoo and a conditioner. It contains creatine, which fortifies your scalp and helps it retain moisture. When added in the shower, the product creates a creamy lather that removes product build-up, while simultaneously detangling hair and soothing the scalp with the help of essential oils.
The Leave-in Treatment: Monpure Follicle Boost Hair Density Serum
This post-wash treatment is great for revitalising your scalp and encouraging hair growth because it increases blood flow to the scalp, activating your hair follicles.
The product contains pumpkin seed extract, which is a modern and useful method of preventing hair loss. In addition to this, the serum also includes exfoliating retinol and lactic acid, which help to remove dead skin and debris around your scalp – this can inhibit hair growth when left.
This is a great low-maintenance option because all you need to do is gently massage it into your scalp in the morning.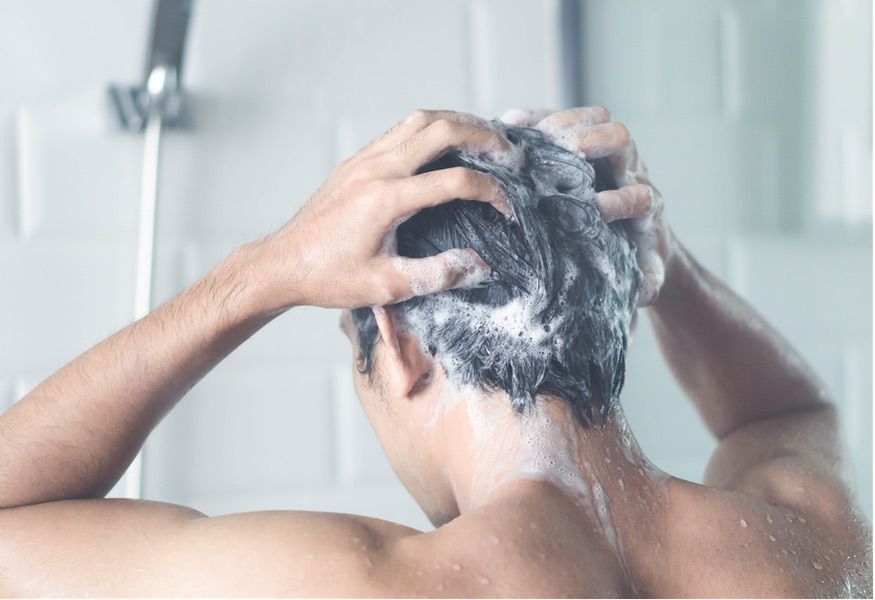 The Scalp Mask: Inkey List Caffeine Stimulating Scalp Treatment
A weekly scalp mask can be a great help if your hair is feeling thin. After all, a healthy scalp will encourage the growth of thick, healthy hair.
For the Inkey List Caffeine Stimulating Scalp Treatment to work its magic, you'll need to apply 4-6 drops of the serum onto your palms and then rub the product straight into your scalp. Once you've given it half an hour to soak in, you can go to bed and leave it on overnight. Then, all you'll need to do is wash your hair in the morning.
The Foam: Men's Extra Strength 5% Minoxidil Topical Solution for Hair Loss and Hair Regrowth
This foam works by stimulating your hair follicles to ensure that your hair grows back thicker and fuller. This happens because Minoxidil causes an effect on the calcium channels in the hair cells by increasing capillary blood flow to the follicle, helping to make follicles stronger. This then gives them a much better chance of hair regrowth.
Studies show that 9 out of 10 men kept or regrew their hair within 16 weeks of using the solution twice a day, although results can be seen from as early as 8 weeks.
The Spray-On Treatment: Foligain Hair Regrowth Treatment for Men with 10% Trioxidil
If you'd prefer a no-fuss spray-on treatment for your hair, then this solution from Foligain is perfect. It uses a triple-action formula and bioactive ingredients that target the main cause of hair loss. The treatment blocks DHT in order to create stronger hair follicles and create healthier, thicker hair.
The Supplement: Hairjelly Protein Supplements
Using a protein supplement can help you tackle the problem of thinning hair from within.
These supplements work by providing your body with a level of sulphur-based amino acids that it wouldn't be able to store as part of a healthy and balanced diet. In fact, they release the equivalent of two steaks' worth per day.
These amino acids are absorbed by the body and this increases the stimulation of the hair bulb matrix, which produces the actual hair root during the growing phase of the hair cycle.
Your hair is mostly made from proteins, so if you're suffering from thinning hair then it's vital that you intake a sufficient amount of protein to keep your hair looking strong and healthy.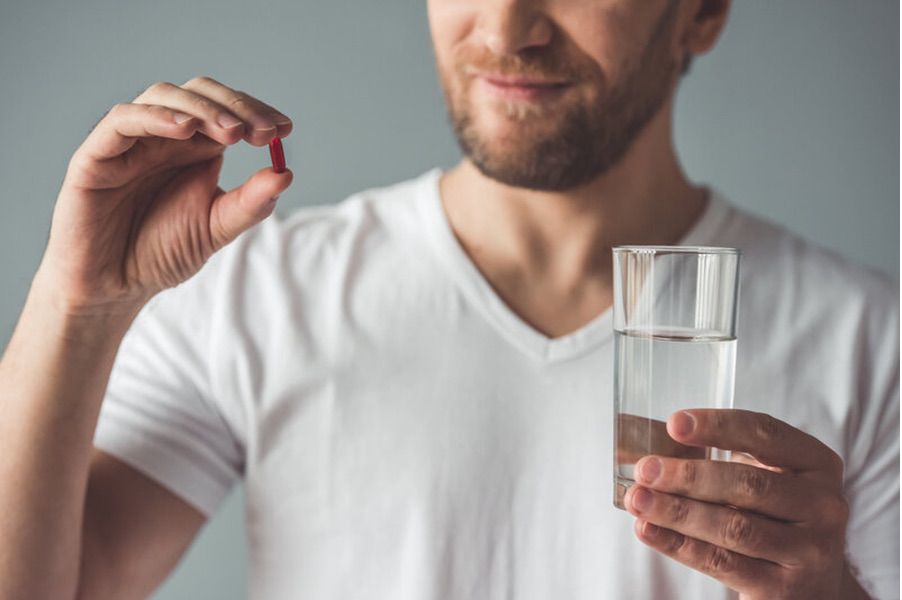 The Tablets: Viviscal Hair Growth Programme 60 Tablets
Dietary problems and vitamin deficiencies can lead to hair loss. If you believe that you suffer from either of these problems, then taking tablets could help you rectify the issue.
The Viviscal Hair Growth Programme 60 Tablets contain vitamin C, niacin, iron, and millet seed. These products, when ingested as part of a healthy and balanced diet, will aid hair growth. Plus, they'll also help to reverse any damage that has been caused to your hair by either poor nutrition or over-styling.
The Multipurpose Product: Philip Kingsley Trichotherapy Stimulating Scalp Toner
This stimulating scalp toner is part of the Philip Kingsley Trichotherapy range. It's a two-in-one product that has been designed to give your scalp all the nutrients it needs to produce thick and strong hair. It also helps you tackle dandruff and means that your scalp will be in the best possible condition to produce strong, thick hairs.
The Long-Term Plan: Regrowz Hair Regrowth and Thickening Treatment
This product from Regrowz has been proven to reduce baldness by almost 40%. In fact, some people have even witnessed a 44.9% individual reduction in hair loss after using the product for three months.
However, using the Regrowz thickening treatment won't provide you with a quick fix. You'll also need to use their restoration serum and scalp stimulant for three months if you want to prevent and reverse your baldness.
In summary, if you've started to notice that your hair is thinning but you're not a good candidate for a hair transplant, then any item on our list of best thinning hair products will help you add thickness to your hair and improve its strength.
But, before you buy any thinning hair products, make sure you understand what the product contains. You should also remember that there's no 'one-size-fits-all' solution to hair loss, which means that the hair thinning products that work for your friends may not work for you. If you're in any doubt at all whether a product may be right for you, read the reviews and consult your doctor.